Reporters Without Borders issued its annual report on freedom of press in the world, and as it says, "once again, freedom of expression is under siege everywhere".
MIDDLE EAST
Regarding the Middle East, the report clearly refers to the difficulties journalists face in Iraq and in the Palestinian territories. 65 Journalist were killed in Iraq, others were attacked, targeted and kidnapped for their political or ethnical membership.
Kidnaps and attack were also relevant in the Palestinian Territories, and 17 media workers were wounded in shooting by the Israeli army.
In addition to the well-known dictatorship in the zone, Reporters Without Borders points out the increasingly influence of the religion in media. The cartoons of the prophet Mohamed that appeared in a Danish newspaper caused a batch of protests in Middle East and the report states that "Instead of calming the crowds protesting at Danish embassies in the region, Arab governments chose to censor the media as a way to curry favour with the Islamists".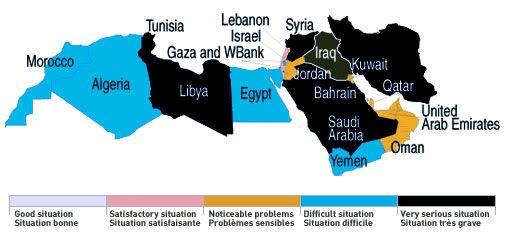 JORDAN
Persecutions:
Intelligence services closely watch local journalists, who have to be members of the Jordan Press Association. Jordanian journalists still face prison, especially if they write articles that can be considered harmful to Jordan's diplomatic relations, or if they express ideas on the King or the royal family.
The report do not cite the recent press and publications draft law, which will abolish the detention and imprisonment penalties against journalists in press and publication cases, which are substituted with astronomical fines for who will express 'anything concerning assaults on religions and doctrines or inciting sectarianism and racism'. However the report refers to the king's will in favor of decriminalization of press offences.
Prophet's Cartoons:
Hisham al Khalidi and Jihad Momani were arrested for reprinting the cartoons that first appeared in Danish daily Jyllands-Posten in September 2005. Al Khalidi and Momani, that were given 2 months prison sentences, were editors of the weeklies Shihan and Al-Mehwar, Shihan printed three cartoons and called on Muslims to be reasonable, Al-Mehwar reprinted all the 12 cartoons with an article about criticism of their publication. Parliament unanimously called in January 2006 for the authors of the cartoon to be punished for a "cowardly and reprehensible crime". The report also added:
The king, whose legitimacy partly rests on his family's descendance from Mohamed, said that any insult to the Prophet was an offence that could not be excused in the name of freedom of expression.
A good question is how much religion and freedom of press can get on well together? Issues of France-Soir, Liberation and El Pais that reprinted the cartoons were also banned.
Killing of Zarqawi:
The report says that journalist Yasser Abu Hilala was briefly arrested during an interview with Zarqawi's brother in law.