If you open your email account, probably you'll find it full of spam, a recent study basically affirmed what we all know: 90 percent of incoming mails are received from unknown persons.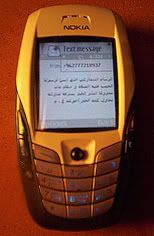 People have become more familiar with spam, multi-gigabytes-accounts and several filters have made dealing with this enormous problem easier and friendlier, however I noticed lately an impressive amount of messages I've received on my mobile phone from different sources… is that the beginning of a new phenomenon? Can we say these are "SMS spam"?
Some of them are sent from Fastlink (since I'm a Fastlink subscriber) they (nicely) inform you of special offers, tariffs, reduced prices, subscriptions and a hundred of other things…
A new electronic card charged with 1.65 JD is sold at 1.99JD (Taxes included) (4/11/2006)
We pay your tax! Charge your phone account before 14/11 and you'll get up to 20% free (11/11/2006)
I was told that I'm more fortunate than Mobilecom subscribers; they're blasted with such messages at 2 o'clock (night). Then, there are the patriotic messages: Jordan 1st, in memoriam of Amman bombings martyrs, vote for Petra! …
Advertising on mobile phones is being more evident and it seems very useful... Yes, now on my Nokia I have different methods for winning a Chevrolet, or 10000 JD (I have to participate in 5/5 – a TV program) and more important, I know how I can change my life using Feng Shui. (I'm serious; all these things are on my phone!).
There are also the "Islamic" messages, I remember one about the war in Somalia and how we should pray for combatants and mujahedeen, it was very popular on the Eid. But the most upsetting was the one I've got yesterday, typically Jordanian, this is its text:
The Danish drawer that offended our beloved prophet (PBUH) died in fire. Share this message now because his government tries to conceal this information.
Labels: Jordan