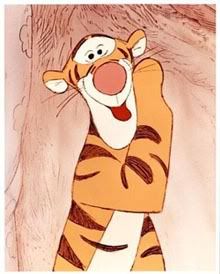 For sure, you've listened to many stupid news last month, but one of them appeared with more emphasis on several US media, international newspapers and internet sites, the one regarding Tigger of Winnie The Pooh.
I'm not a big Disney fan, and I've never enjoyed watching Winnie The Pooh, I don't know why, but sometimes this cartoon saddened me! However, this time I'm definitely with Tigger.
All we know the world is full of injustices, and this is a tragic example: Tigger has been accused of punching and hitting a boy's face, during a pose for a photo.
Well, I watched the video, and it's so evident that Tigger did not punch the kid's face, it kindly touched him after losing balance. And the so-named "boy" is a 14 year kid, has found nothing better than to visit Disneyland and take a photo with a two-meter tall plush. And then, for what reason should Tigger hit a boy?
The fact that there is a man who has to wear in a ridicule way, to get an underpaid salary and an underestimated job is a good reason, and that hundreds of nasty small boys peeve him daily and he must grin and bear it. So, little poor boy, do you know what I think? If I were Tigger, I would really break your face!
(If you're a Tigger fan you can subscribe to this fanlisting, visit this site or watch this movie).
Labels: Fun