For sure, Amman cannot be considered the world's most respectful city toward its architectural heritage. 1920's and 1930's old buildings in King Faisal street are demolished to be replaced by ugly concrete buildings and scary skyscrapers are scheduled to grow like mushrooms making Amman not the "white city" anymore.
Amman's inattention to its heritage and calls for modernization (or more exactly "Dubaization") are making us lose parts of old Amman, piece by piece.
What do you know about "Wadi Amman Project"?
We will not call it "Solidaire Amman" reassured mayor Omar Maani. But the 475,000 square meters project looks similar in principle; a multi-million regeneration plan for the downtown with a public-private partnership, it aims to "bring massive socio-economic benefits" to the area.

The project will comprise three main areas:
1) Wadi Philadelphia:
Includes the Roman Amphitheater, the Old municipality building (that will be rehabilitated into a hotel), the Poets house (Bait al Shi'r) that will remain the main cultural center with musical and cultural activities, and the old Raghadan terminal (converted into a commercial area with a public library and a hotel). Et oila: A funicular that connects the Amphitheatre with the Citadel (Area around 9 Hectares).
2) Wadi Raghdan:
Public gardens (Palace Gardens, since they are near the Royal Raghdan Palace). Mixed-use buildings (including a bazaar) and a pedestrian path. 22.5 hectares of "affordable housing", in addition to a Souq and a hotel.
3) Wadi al-Mahatta:
Intermodal terminal for the Amman-Zarqa light train.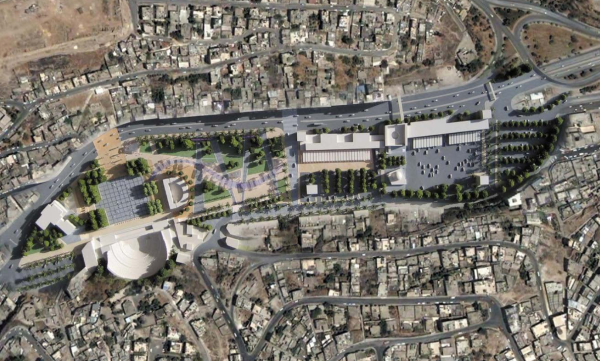 The frontward yard of the Roman Theatre will be converted to a piazza, the Hashemite square will be revitalized with a beautiful landscape design. One of the main concepts of the project is to make Amman greener.
Good project, but will GAM take into consideration the local community in these areas? Will they try to conserve the old heritage and the old Ammani buildings? Not sure, one case is Abed Abu Mohaisen whose family produced traditional Bedouin daggers for more that one-hundred years has been asked to close down his workshop in downtown. A traditional Jordanian art may die out.
It is not clear which buildings GAM will reserve, even in the published pre-qualification document there are only three places which may be considered historical monuments and heritage buildings (Roman theatre, Old Municipal Hall building and the Poet's House).
What do you know about "Hamzet Wasel"?
"Hamzet Wasel is an initiative by and for the citizens of Amman to encourage the diverse people of the city to build authentic relationships and exercise their social responsibility by designing and participating in activities and programs that tackle the complex challenges and explore the unique opportunities which exist within our multi-layered city."
In practice, Hamzet Wasel members protest the building of a wall around Jabal Qalaa and accuse the municipality and the Ministry of Tourism that this walls will prevent the citizens to access that part of the citadel which will be converted to a plaza for "people who can afford to rent the place" for weddings and parties.
Hamzet Wasel oppose the proposed demolition of the 50+ year old homes and suggest that the area remain open and free for all.
On the "Creative Jordan" website you can find rich and useful discussions. Dr. Khairieh Amr is an archaeologist who excavated at the same zone said there were plans to purchase an old house and convert it into a visitors center. She also asked why the government is building against its own regulations, if the people of Jabal Qalaa are under very strict regulations since the whole area is an archaeological site.
The construction will be built on Archeological ruins, revealed Faten Al-Masri Kamal from GAM, "the entire Citadel site has the potential to yield archaeological resources, and as yet, a considerable part of the site remains unexcavated. Therefore any new construction could be on top of archaeological ruins".
Sally Shalabi posted some photos of the wall and the bus terminal, it is not so beautiful.
Today a public meeting should be held with local community to discuss the issue. Fortunately the municipality is making some steps back and tries to be more cooperative with Jabal Qalaa citizens, urban architects and local community. Everybody wants a better and more attractive Amman. As we've seen, there are full of archaeological ruins at the citadel that wait to see the light, Amman's old buildings still keep centennial stories and should be reserved and the downtown hides an inestimable heritage that can be converted to a smart source of tourism and economy.
Everything can be accomplished by keeping citizen, local needs and heritage in mind.
Labels: Jordan