In my last Arabic post I've talked about my conviction of evident frauds in the municipal elections. I have also noticed that I was the only blogger to explicitly say that, most of the others did not report anything on these elections and some of them had different opinions, which I hope they represent personal convictions and not acts of auto-censorship.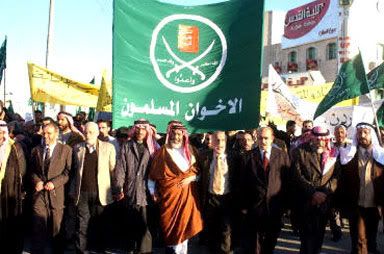 "Oh my God! They are coming!"
All's well that ends well! Municipal elections in Jordan ended blissfully, if we take apart some healthy political bagarres between Bani Rusheid and Bakheet, we can state that everyone is happy and definitely there are no losers; starting from Islamists who are trying to regain some of their lost popularity.
After seven hours into voting, the 'Front' came with their decision to boycott the elections, a scheduled and well-thought political move that allowed the Islamists to withdraw the elections, say goodbye and to mantain an optimal reputation. The decision aided them in regaining a little part of their popularity, and in any case, two IAF candidates won mayorship and several others seats on municipal councils.
On the other side, leftists, panarabists and communists, who represented historical opposition and government's old enemies, got 24 unexpected seats, and some of them become mayors of the biggest cities of Jordan including Karak and Irbid. It's also interesting that Irbid's new mayor, Mr. Tell, who was 'accused' to be the candidate most cuddled by the government, is one of them.
The third part is represented by our respectful government, all we know the government is always happy, this time because there was a democratic wedding. It seems that the other 992 seats were won by the powerful government's party.
Although all the persons I cited above are sure there were some strange actions, too many Jordanians with the same name and thousands of illiterate soldiers; no one can really accuse government of illegal actions, at maximum we can say the government's style was unethical but the funny thing is that there is nothing outlaw.
On my side, I invite political scientists to go into more depth on Jordanian municipal elections, I'm sure this is the first time a government takes so open actions in aid of some candidates without breaking the law, this is a case without precedent.
"I would have voted for Abu Hudeyb"
After ten days of reflections I've came up with a sort of theory, I've tried to answer myself how alleged 'fraud' may be legal? Let's study what really happened in municipal elections.
All we know that some Jordanians are illiterate (roughly 5%); the law permits illiterate people to vote by pronouncing the candidate's name at loud voice. Are the army men punishable because they voted as illiterate? No, this is totally permitted by law.
The voters' lists are published months before the elections. Everyone is invited to denounce any irregularities on the lists, otherwise they become official, and this is what happened in Jordan.
So we can say that the right choice for a legal fraud is to interpret laws as they are better for you.
The second rule is to work against your enemy, not against all the others. If you can choose between different candidates, choose the most popular candidate not supported by your enemy, even if he is not beloved by you, he will be the most appropriate choice.
The third rule is a good dosage of debunking and not the old-fashioned cover-up; everyone watched huge buses carrying hundreds of soldiers, in front of you or on Al-Jazeera there are no problems, it's their right to vote!
Most important condition for the legal fraud theory: The main enemy does not represent the majority, at the contrary; there are a lot of people who do not sympathize for him and they are available to be with you this time.
These are the guidelines for a legal fraud, patented in Jordan, they are now available to all the other governments of the world.
Last week I've read an article of Marc Linch, he talks about the difference between Jordanian and Egyptian Muslim Brotherhood, anyway he did not refer to the difference between Jordanian and other governments, all we know our government is thousand times more intelligent and slick of others!
... And our government is always right.