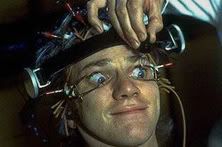 My mom always reproaches me for staying more than three hours in front of PC and she scold me if I'm not at more than two meters from TV. Well, now she can be happy to read this post...
A recent article says that playing action video games for a few hours will improve the vision by nearly 20%. The study was published by Dr. Daphne Bavelier, professor of brain and cognitive sciences - University of Rochester, he had tested with a graduate student a large number of college students who had not played any video game in the last year, after that these students were given an optical test (similar to those of any eye clinic) and were divided int two groups: action-game players, those who had played shoot-'em-up action games for an hour a day, and the other group that played less visual complex games.
After this study the students were tested and it was found that those who played the action game had better results. Bavelier said that "Action video game play changes the way our brains process visual information" and he added that this findings could help patients with several types of visual defects. [Source]
Today I've found another site on the net, it contains some interesting eye-miths including the silly sayings that "eating carrots can improve vision" or "reading in the dark will damage your eyes", however it finally proved that sitting too close to the TV is not bad for eyes! The site says that:
Modern TVs do not emit harmful radiation, so eye damage due to radiation is also not an issue. As with sitting too close to the television, you may get a headache from reading in the dark, but it will not weaken your sight.
Regarding computers, a lot of sites talk about the Computer Vision Syndrome (CVS), about.com has two pages dedicated to the syndrome, an article of Cathy Wong describes CVS as a common problem (this syndrome is about 40 times more common than carpal tunnel syndrome, another health condition affecting computer users). The other article shows possible links between computer use and Glaucoma, however it clearly says that there's no strong proof of that.
Labels: Technology, What's on the web