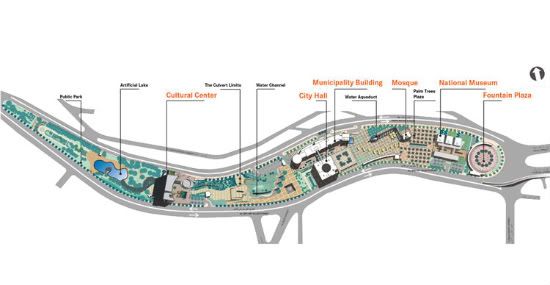 Do you remember my post about the expected construction of an opera house in Amman? GAM changed opinion and decided to build something not restricted to opera music only, a new, more general cultural center named "Darat King Abdullah II".
This center will be built on the former location of the cigarettes factory in Ras al Ein (What is now called the GAM strip, see above).
It will be home to the Amman Symphony Orchestra, the National Institute of Music, the National Folklore Group and the Amman Municipality Group of Folk Art. The center consists of two main theatres; the first with 1600 seats and the second with 400.
GAM has previously promoted an international competition to select the best designs. The first prize winners were world-renowned architectures Zaha Hadid and Delugan Meissl. Their futuristic proposals are amazing. If you look at the good work of Hadid which is inspired by Petra, you'll find movement, innovation and creativity. The proposed shape is really captivating.
Meissl's design is hard-shaped and fits very well with the urban reality of Amman (and it is more practical and buildable).
Zaha Hadid:

Delugan Meissl: