Opening multiple windows...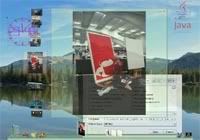 Take a look at windows' back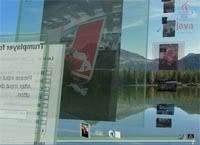 Changing the desktop...

Yesterday, Dr. Basel Mahafzah, our Computer Architecture instructor showed us a short video of a 3D operating system (or more technically, a desktop environment for MS Windows and SunOs), and told us it was developed by a group of students for the OS class in their university.
The project's name is Project Looking Glass, it was developed almost in Java and it's large supported by Sun Microsystems, the whole code is open source with a GNU General Public License (GPL) license. After the short installation, you'll be able to move and rotate windows as if they were sheets of paper (or more precisely, as if they're made of glass), you can even write on the back of any window!
The fact is: why students from Techno do not develop such things? They never thought of taking up similar projects…and this is in some way strange, since we have –technically- the needed abilities and knowledge…we need only will!
One of major things I hate in my university is the fixation of students and instructors to only one thing: marks, so here it's an endless action-reaction between poor students, which study to get decent marks, and between psychopathic (!) instructors trying to make exams even more difficult. We have as result large numbers of students who have very little time for, or don't wish to carry up, something out of the ordinary. In this way, we have killed any form of creativity…
To download the video, click here.
To download the project, visit this page.
(PS: Me and my friend Nasser have thought of making something similar, perhaps for graduation project… and don't steal our idea!)