Tuesday, December 18, 2007
In an unordinary email received by all the students of my university, Prof. Sameer Bataineh has sent his best wishes to them on the occasion of Eid al Adha in a very unconventional way.
Prof. Bataineh, the dean of our faculty and instructor of computer ethics, has sent an email attached with a greeting card, but rather the Hallmark-style sentences the card was saying:
People may endure tons of oppression,
but the oppressor does not tolerate a single word said against injustice,
and who says this word is slaughtered
on the day of sacrifice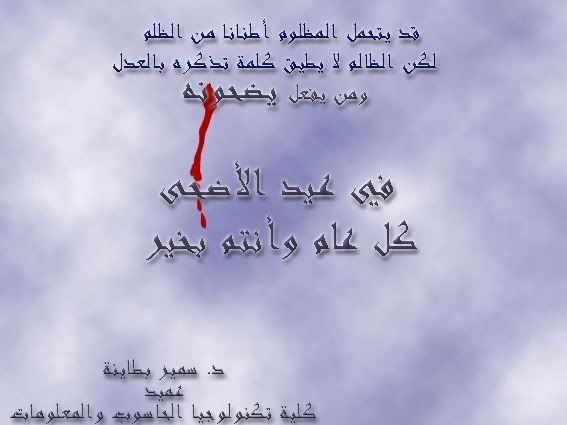 Is there any reference to Saddam's execution on Eid al Adha last year? Or is it a generic phrase coined for every single Arabic dictatorship?
By sure the political tone is quite high here, I greet Prof. Bataineh, who is well admired in our faculty, and I will ask him about any other hidden meanings in this unusual greeting. And Happy Eid to all!